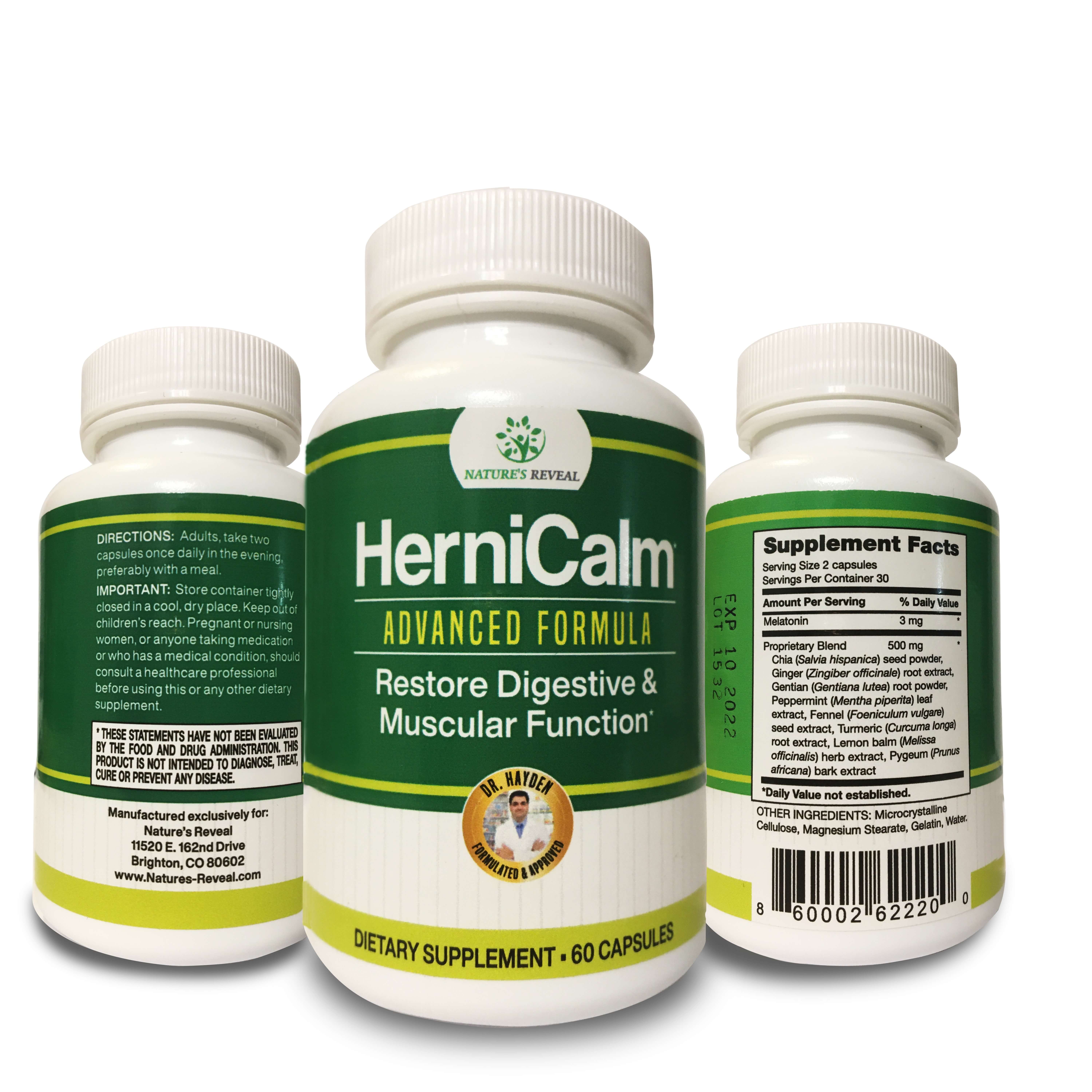 HerniCalm Advanced Formula. Restore Digestive, Gastrointestinal, and Muscular Function. Live Life with Better Digestion, Stronger Muscles, Better Sleep, and Less Discomfort.
Support digestive, gastrointestinal, and muscular function
Better digestion, stronger muscles, better sleep, and less ailments
Natural Ingredients. Natural formula. Science Supported.
Doctor and pharmacist approved & recommended formulation
Dysfunction of the digestive, gastrointestinal, and muscular systems can result in a variety of discomforts and negative effects such as
hernia 
(hiatal, inguinal, femoral, epigastric)
,
muscle cramps
,
pain
,
bloating
,
gas
,
constipation
,
diarrhea
,
intestinal
spasms
, and
nausea
. 
Hernicalm is not a treatment for hernia or hernia related effects. It is a natural approach to restoring digestive, gastrointestinal, and muscular systems. HerniCalm is an herbal dietary supplement that works by targeting the core of these systems to naturally support their normal functions.
Subscribe and Save!
$44.95/Month, Cancel Anytime
*SATISFACTION IS OUR GUARANTEE: We create powerful blends of all natural homeopathic supplements which are formulated to promote a healthy body. Try our products risk-free for 30 days. We're confident you'll see results and be thrilled with your purchase. If you're not completely satisfied with your purchase, let us know and you will receive a full refund.
HerniCalm was developed by Dr. Hayden Gharibyar, a Colorado-based research pharmacist with over 15 years of experience in the pharmaceutical industry. Dr. Hayden recognized the need to help individuals who were looking for a way to naturally support digestive, gastrointestinal, and muscular function. His mission is simple: use what nature has given us to formulate a product with ingredients that work effectively together to support the body's natural functions. With his scientific background and wealth of experience, Dr. Hayden was especially suited to select the best all-natural ingredients and combine them in the optimal amounts to create this truly amazing product.
See What Other Healthcare Professionals are Saying About HerniCalm
See What Other Users are Saying About HerniCalm
I do believe you have a quality product that is working for me.
I've been using HerniCalm for my symptoms after surgery. It's really working great for me. Thank you.
I bought this product for my husband who has been suffering from a hernia for the past few months. He's feeling much better and we're doing more things together.